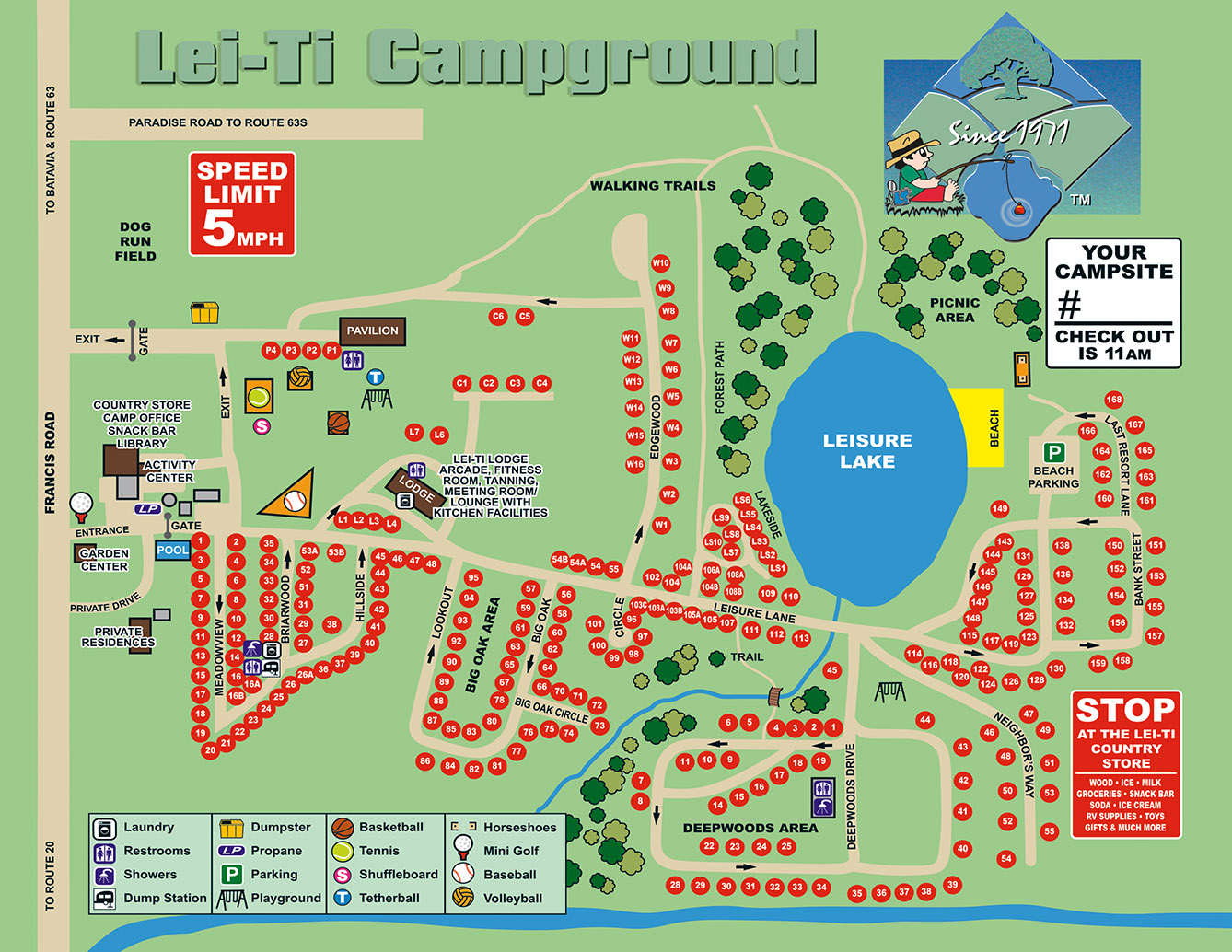 Camping Rules
• Fires are allowed within fire ring only with flames no taller than 18". Do not move rings. Fires must be kept under control at all times.
• Speed limit is 5 mph at all times
• Quiet time is from 11:00 PM until 7:00 AM. Children must be at their campsite by 10:00 PM and always under adult supervision.
• No loitering in Lei-Ti buildings or restrooms.
• No washing vehicles, RV's or watering lawns/flowers. Report all water leaks or dripping faucets to the Office immediately.
• The damage or cutting of trees or plant life is prohibited.
• Lei-Ti has a zero tolerance for firearms & fireworks (or other incendiary devices).Violators will be evicted immediately.
• No excessive noise, loud music or foul language at any time.
• Well behaved dogs are welcome. Proof of vaccinations required. Pets must be on a physical leash no more than 6' long while outside. Dangerous or dogs with a history of aggressive behavior are not welcome. Disruptive dogs will not be tolerated. Pets must be cleaned up after. No pets in Lei-Ti buildings or cabins. No pets in beach swimming area or pool area.
• Sewer hookups require elbow and/or sewer gasket to prevent spills.
• The beach & pool rules, as posted, and lifeguards must be obeyed at all times. No swimming when gates are closed or locked. Adults must accompany children at the beach and pool at all times. Lifeguards are "lifeguards", not babysitters.
• NYS Bicycle Laws must be obeyed, and bicycles may be operated only during daylight hours.
• No unlicensed drivers on Lei-Ti property. No non-registered vehicles. No ATV's or gas powered scooters.
• Overnight & short term guests may NOT bring Golf Carts to Lei-Ti. No exceptions.
• Public drunken and/or disorderly conduct will not be tolerated and will result in immediate eviction. Keep visibility of alcoholic beverages to a minimum. Use of illegal drugs will not be tolerated and will result in immediate eviction. Management will also notify law enforcement.
• Management not responsible for theft or loss of any kind; nor damage caused by fire, wind, accidents, vandalism or acts of God. Properly insure your own personal property.
• Visitors and guests must register at the Office before entering the park. All visitors must leave the park no later than 11:00 PM. All unregistered persons will be considered trespassers and will be evicted and/or prosecuted.
• Lei-Ti is a private park located on private property. Management reserves the right to refuse service to anyone and / or evict persons for any reason, without refund.